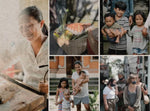 We are in business to improve lives. At Ananda Soul, we believe that a better tomorrow is one where community thrives. Since our beginning in 2009, 10% of our proceeds support the women and children in the communities where we produce and create our products.
Ananda Soul jewelry changes the world a little as every piece:
    ⁃    Helps feed Balinese families in need via the 'Adopt a family'
    ⁃    Is ethically made from sustainable and recycled materials
    ⁃    Provides employment for mothers of street children in Bali
    ⁃    Sponsors the education of children from underprivileged communities from North-East Bali
    ⁃    Carries powerful healing vibrations
    ⁃    Is blessed with prayers for love & well-being in a traditional Balinese ceremony
In April 2020, when the world shut down due to the pandemic, we also began delivering monthly food supplies to local families in need as part of the
'Adopt a family' adopted_famili_v5_this_one_1_2.mp4

Unfortunately the island of Bali, the heart and home of our brand, has been hit hard by the ripple effects of COVID-19 with its economy almost exclusively depending on tourism. As the months have passed and the streets of Bali have stayed empty, a lot of local businesses had to close, leaving people loosing their jobs and local families finding theirselves struggling to feed their families. 

In order to alleviate the situation, we started collecting donations to take care of the wellbeing of a family here in Bali. We collect donations via our webshop, but we also give 10% of every Ananda Soul proceed to 'Adopt a family'. All it takes is US$60 to feed a Balinese family for one month.
This project isn't only about gathering donations and giving to the ones in need, but to also tie in and create a supply structure that involves local suppliers and farmers who also have been impacted by the effects of this pandemic. 
Nine months down the road it becomes really clear that the backbone of this project is not so much me as the founder, but most importantly our beautiful local team. These women have been the ones finding the families in their own villages who were in need the most. The lists of names they came up with month by month consisted of families with elderly, families with many children, people with disabilities, people who had lost their jobs, people who can not make it through this time without significant impacts to their wellbeing.

These women who have been running the operation on the ground with their unbroken devotion and compassion are the ones to thank for. Nine months ago we birthed a project that was for the Balinese given by the Balinese. Even after 10 years I still see myself a guest on this island. My brand is merely an enabler for the local community to support one another and to offer a support system.

Ananda Soul is committed to continue this work AND to show first hand the impacts of these efforts. Until today we have been able to support over 1800 Balinese personally – and we will keep going.
From Bali with love,
Ananda Soul