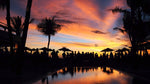 Bali is known around the world for being an exotic tropical paradise where you can have your "eat, pray, love" moment. This is true, but there is also so much more to love beyond yoga, meditation and wanderlust in the mountains. What makes Bali special is a unique combination of peaceful and stunningly beautiful local culture blended with the creative talents and design-centric influences of the many people from around the world who have decided to call Bali "home."
This is best experienced in the popular beachside town of Seminyak which has the perfect mix of locally branded shops, eclectic restaurants and chill beach clubs surrounded by boutique hotels and villas. It sounds totally commercial, but once you peel back the layers you realize this is truly a vibrant community of artists, designers, and creators who are each contributing their talents to Bali in meaningful ways.
When you walk the streets of Seminyak you'll find shops that are owned by both locals and expats, but the common thread is a focus on handmade items that are designed to be modern and trendy. It feels almost like some of the best designers from Indonesia and around the world decided to say "goodbye" to their hectic lives and moved to Bali in search of something different. Luckily for us this means there are countless home furnishing, fashion and jewelry businesses that offer this beautiful blend of locally made products. I fell in love with the handstitched lace, decorative items for the home and of course sterling silver earrings, leather handbags and shoes.
The only thing better than fabulous shopping, in my opinion, is eating amazing food and drinking craft cocktails under the sunset. After a long day of touring the countryside seeing the beautiful terraced rice paddies and Balinese temples, there is nothing better than relaxing by the beach to the curated beats from Ku De Ta's resident DJs and sipping on a watermelon martini. The chill vibe and focus on locally sourced, high quality ingredients is what makes Bali's restaurant scene special. It's as if they've developed the perfect recipe for relaxation.
The people of Bali are what make it a place unlike any other. When you visit, whether it's to a traditional village of artisans and craftspeople or engaging with workers in the hospitality industry, you'll be surrounded with nothing but smiles and genuine kindness. Balinese people, grounded by their Hindu faith, are so colorful and cheerful that it makes you feel happier just being around them. It's easy to fall in love with the culture and the people.